VSBF 2023|ACHIEVEMENT
The year 2023 marks the 50th anniversary of the establishment of diplomatic relations between the two countries, the 10th anniversary of the strategic partnership between Vietnam and Singapore and the 3rd anniversary of the establishment of VSBF.
VSBF has been engaged by businesses in key moments and until today – it has been hailed in Vietnam, Singapore, Southeast Asian countries while spreading its influence on broader scope outside Asia with the presence of leaders from General Electric (GE)-USA, or Energy Transition Partnership (ETP)-UNOPS, etc.,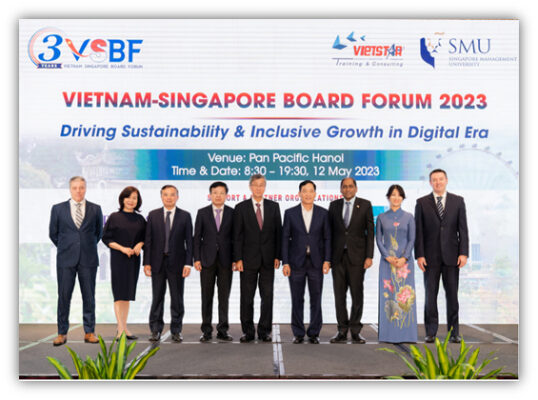 VSBF 2023 is joined by policymakers, business leaders, and national and international academics to update global trends and discuss policies, solutions, and strategic implications toward sustainable inclusive growth.
As viewed by numerous business leaders, policymakers and investors…, the forum has made very positive impacts on business leaders and community. Insightful expertise and sharp perspectives achieved from the forum generated thought-provoking discussion and positive feedback from participants.