Singapore firms share experience with VN in sustainable energy development
Vietnam – Singapore Board Forum, organised by VIETSTAR Training and Consulting JSC and Paris Graduate School of Management, with the title 'Enhancing Resilience, Strategy Formulation and Execution in the New Normal: Singapore Experience for Energy Industry,' had the participation of over 50 executives of leading Singaporean and Vietnamese corporations.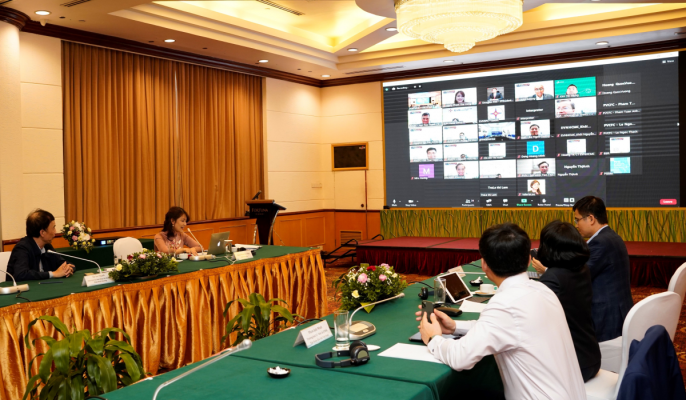 Photo courtesy of the organiser
Vietnamese energy companies need to revise their strategies to adapt to changes in the global energy structure as well as to post-pandemic conditions, experts have said.
Speaking at the Việt Nam – Singapore Board Forum held online last week, Associate Professor Vũ Minh Khương of the National University of Singapore said, "The global energy trend will focus on sustainable and renewable energy, the use new technologies in photovoltaic solar power, digital transformation, and creating hybrid systems by mixing floating solar energy and hydroelectricity."
The energy structure would change in the next 10 years due to the impact of the pandemic as well as policy adjustments by many countries to achieve sustainability after the pandemic, he said.
According to speakers, the fourth wave of the pandemic in the country has severely hit all industries, including energy, and requires businesses to quickly adapt to the situation.
Khương said Việt Nam's energy sector should have appropriate strategies for sustainability and green transition to deepen global integration, and digital transformation.
They could learn from Singapore's experience in energy development and how its businesses navigated the pandemic, he added.
Singapore ranks high in the COVID-19 recovery index.
To do so, Douglas Foo, chairman of the Federation of Singapore Manufacturing, said businesses have adjusted to adapt to the new reality, regularly evaluating and revising crisis management plans to prepare for various risk scenarios, and looking at how to mitigate the impacts of potential sales declines and poor forecasts in the new normal.
They have taken digital transformation strategy as the backbone to break through, and diversified their supply chains by taking advantage of new generation trade agreements such as the Comprehensive and Progressive Agreement for Trans-Pacific Partnership and the Regional Comprehensive Economic Partnership, he added.
Wong Kim Yin, group president & CEO of Sembcorp Industries, who has over 20 years of leadership experience in energy and investment management, said his company has turned its portfolio "from brown to green" and transformed many aspects such as administration, capital sources, human resources, partners, and stakeholders.
"We hope to be able to join hands with Việt Nam to accelerate energy transition through improving the efficiency of the power system, co-operation in renewable energy and technology and capacity transfer."
Sembcorp's experiences are expected to be useful to Việt Nam's energy sector in the future, he added.
Fadah Alsagoff, management team member and head of enterprise development at Temasek Holdings, said his company's top priority is to protect the community from the pandemic.
Temasek is increasingly shaping its portfolio in line with four structural trends, "digitisation, sustainable living, future of consumption, and longer lifespans," he added.
Source: https://vietnamnews.vn/economy/1065565/singapore-firms-share-experience-with-vn-in-sustainable-energy-development.html